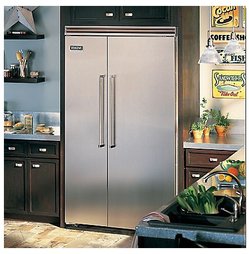 We will prove we are different
Viking Refrigerator Repair
Viking Range is a reputable appliance manufacturer that's been a powerhouse in the world for three decades and counting. The brand's appliances are practically synonymous with exemplary quality. If you visit homes across the United States, you'll see sturdy and modern Viking appliances everywhere.
People all know how impressive Viking appliances are. They also know, though, that problems with household appliances are essentially inevitable. If you're the proud owner of any appliances that were made by Viking, you know that problems occasionally occur. It doesn't matter how strong your appliances are. You need to be prepared to take care of any and all issues that come your way.
When you need top-notch Viking appliance repair services, all you have to do is put your trust in NY Viking Services. We're a skilled business that caters to customers all throughout New York, New York. We're headquartered in the bustling Big Apple as well. People know that we're Viking appliance experts here. We repair appliances that are made by many other top brands, too. Some of these are Wolf, Bosch, Kenmore, Frigidaire, KitchenAid and Thermador.
The symptoms your Viking refrigerator is having an issue
Are you noticing that your food is going bad?

Is your refrigerator panel (body) hot?

Are you picking up on unusual levels of condensation?

Is your refrigerator noisy or loud?

Is it leaking water from your refrigerator?

Ice build up on the back panel?

Is your refrigerator ice-maker not producing ice?

Is the control panel not responding or the lights out?

Is "service" error code displayed in the control panel?
Solution: Call us - Get diagnosed - Extend the life of your refrigerator
The reasons for that can differ from freon leakage, to compressor's failure, to damaged electronics.
These things all signify possible refrigerator issues. That's why it is so critical to call technicians right away, whenever you have noticed that your fridge is malfunctioning.
Invite one of certified technician from NY Viking Services and join thousands of happy customers all around New York City. Results are very satisfying! We can provide same day Viking refrigerator repair service and dispatch trained and certified Viking technitions to resolve problems with your Viking refrigerator.