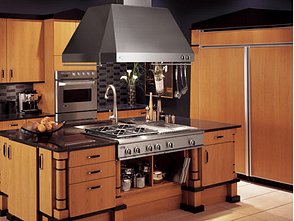 Solution: Call us - Get diagnosed - Extend the life of your Viking microwave
There a lots of reasons why your range hood may be not functioning well:
The location of a kitchen exhaust fan can sometimes cause the wiring to melt. The wires can also become loose or frayed.
A build-up of condensation in the kitchen exhaust fan can result in moisture dripping from it and causing staining to the surface beneath.
The fuse may be blown and tripping the circuit breaker
The most popular reason is broken fan blade, kitchen exhaust fan motor, or blower motor that has stopped working.
These things all signify possible range hood issues. That's why it is so critical to call technicians right away, whenever you notice that your ventilation hood is malfunctioning.
Invite one of certified technician from NY Viking Services and join thousands of happy customers all around New York City. Results are very satisfying!
NY Viking Services will get your vent hood back up and running quickly so you can move on with your day and start enjoying your kitchen again.
Call us today to schedule your Viking range hood service or repair!
Proper ventilation is one of the most important factors in a kitchen.
As professional ranges / stoves increase higher BTU output, there is an important need for more powerful venting. Viking Range hood offer one of the best venting in the industry both for household and professional cooking purposes.
Professional hoods help to remove smoke, steam, and odors produced when cooking.
With powerful multi-speed blowers to whisk away smoke and odors, along with halogen lighting to elegantly illuminate cooking areas, Viking ventilation offers a vast array of useful, attractive options engineered to enhance any kitchen design.
We will prove we are different
The symptoms your Viking microwave is having an issue
While your range hood or exhaust fan is not the most essential appliance in your house, it is still a hassle which if left can cause the build-up of the grease in and around the range / stove / cooktop. Furthermore a broken hood can be crucial to a kitchen with health and safety considerations.
The major symptoms are the followings:
The range hood is not evacuationg smoke

The hood is making unusual noises and vibration

The fan is not running

Level settings are broken

Faulty buttons or electrical malfaunctioning