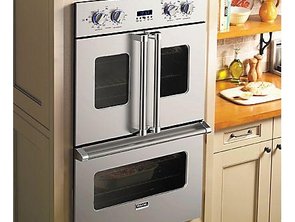 Viking ovens are designed to last about 20 years on average, but unfortunately based on cetrain circumstances problems may occur.
Here are some of the common Viking oven issues:
Oven won't heat or not turning on

Bake mode is not working

Broil mode is not working

Oven is not providing the necessary temperature

Oven door not closing tight

Oven seal is torn

Oven lights are off

Oven control panel is not responsing

Oven control panel displaying error code

Oven control panel clicking or beeping

Burning smell is coming from oven.
Solution: Call us - Get diagnosed - Extend the life of your Viking oven
If you dealing with one of the problems listed above, please don't wait, call us, dont let the problems disrupt your happiness.
nvite one of certified technician from NY Viking Services and join thousands of happy customers all around New York City. Results are very satisfying! We can provide same day Viking oven repair service and dispatch trained and certified Viking technicians to resolve problems with your Viking oven.
Call us today to schedule your Viking oven maintenance service or repair! Extend the life of your Viking oven!
The Viking Oven issues we fix
Flame supervision devices (FSDs)

Spark plugs

Electrodes

Doors

Hinges

Fan elements

Base elements
Grill elements

Switches

Fan motors

Burners and burner caps

Printed circuit boards (PCBs)

Temperature irregularities

Uneven heat or cooking
Thermostats

Lid switches

Thermocouples

Tripping electrics

Timers and fans

Ignition generators

Flame failure devices (FFDs)
Viking brand appliances are one of the premium products in the industry today.
Each Viking appliance is rigorously stress-tested to perform for over twenty years of daily use and is backed by the strongest warranty in the industry.
Viking represents the pinnacle of kitchen appliances and will not settle for anything less than the industry leader in high-end appliances. Viking has been leading the appliance industry for many years, setting an example of quality, durability, and luxury.
Viking Range is known as an appliance company which offers some of the best and most innovative wall ovens, accompanied by expert service. Viking is considered as a luxury, quality, and precision standard in the industry of kitchen appliances.
Viking range has been an innovator being one of the first with twin convection, retractable control panels and multiple specialized cooking modes in the ovens.
The Viking wall ovens bring professional performance in the home kitchen. These ovens are time-tested, utilize dual convection to control heat and airflow so every dish comes out exactly as you intended and lets you prepare any type of dish with healthier, more delicious results.
We will prove we are different
The symptoms your Viking oven is having an issue