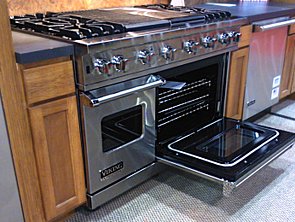 Solution: Call us - Get diagnosed - Extend the life of your range / cook top / range top / stove
The reasons for that can differ from gas leakage, igniter issue to burner failure, to damaged electronics.
These things all signify possible range / cooktop / rangetop / stove issues. That's why it is so critical to call technicians right away, whenever you have noticed that your range is malfunctioning.
Invite one of certified technician from NY Viking Services and join thousands of happy customers all around New York City. Results are very satisfying! We can provide same day Viking range repair service and dispatch trained and certified Viking technitions to resolve problems with your Viking range.
Viking brand appliances are one of the premium products in the industry today.
Each Viking appliance is rigorously stress-tested to perform for over twenty years of daily use and is backed by the strongest warranty in the industry.
Viking represents the pinnacle of kitchen appliances and will not settle for anything less than the industry leader in high-end appliances. Viking has been leading the appliance industry for many years, setting an example of quality, durability, and luxury.
The symptoms your Viking range / stove / cooktop is having an issue
Unfortunately no matter how high the standards are, nothing lasts forever.
The most popular symptoms that range/stove is not functioning well are the followings:
Gas rings are not staying lit

Range burners are slower than usual to light

Range burners won't ignite

Spark electrode is not jumping to burner

Unsual popping sound when stove is turned on

Fan is not spinning

Food is not cooked properly

Grill is not heating

Door hinges are loose

Cooktop is not turning on

Range smells like gas

Rangetop has uneven flame

Surface element does not heatproperly
We will prove we are different
The Range / Stove / Cooktop issues we fix
Thermostats

Lid switches

Thermocouples

Tripping electrics

Timers and fans

Ignition generators

Flame failure devices (FFDs)
Grill elements

Switches

Fan motors

Burners and burner caps

Printed circuit boards (PCBs)

Temperature irregularities

Uneven heat or cooking
Flame supervision devices (FSDs)

Spark plugs

Electrodes

Doors

Hinges

Fan elements

Base elements